5 Cool New Gimp 2.8 Features That You May Have Missed
How well do you know Gimp 2.8?  Some of these new features haven't been discussed as much as Layer groups or single window mode, but they definitely deserve a mention!
1.) Simple Math In Gimp 2.8 Size Windows
One of the more obscure, but much appreciated updates in Gimp 2.8 is the addition of simple math in some of the Gimp 2.8 size fields.  In a nutshell, this means that you can type math expressions when you click file>>>new, or even reduce the canvas size by a percentage.  Unfortunately, it doesn't seem to work in any of the script fu windows (sadly, this includes the insert>>>guides>>>new guide option).  Despite that, it is definitely a welcome addition, and comes in very handy.  Here's an example of what I mean:
In this example, I typed up "100*2″ in the width section of the image size.
Once I pressed TAB or switched over to the height value, it automatically solved the expression, as 200.
2.)Alt+click to select
A handy speedup that was added is the shortcut keys to make a selection from alpha.  If you hold-in the ALT key on your keyboard, and click on the preview image of any layer or path, it will create a selection from the alpha channel, or the path.  You can also add, remove, and intersect these selections together.
ALT SHIFT adds selection
CTRL ALT removes selection
CTRL ALT SHIFT intersects
For those who don't understand what this means, in a nutshell you can ALT+click on any layer or path and it will make a selection.  After that selection is made, you can ALT+SHIFT click on another layer and it will combine those two selections together as one.  Alternatively, if you hit CTRL+ALT and clicked on another layer, it will remove that selection from your current selection.  Sound confusing?  Mess around with it a bit, and you'll see exactly what I mean.
-Side note-
Alt+clicking on a layer mask does not make a selection from it, instead it shows the layer mask.  Ctrl+clicking on a layer mask will enable or disable it.  Handy stuff!
3.)Resource Tagging
This is a very handy trick for all of you brusheads out there.  Gimp 2.8 now supports resource tagging, which means that you can add tags to your brushes.  In a nutshell, this means that you can "group" your brushes together by giving them a specific tag.  After you do that, you can dynamically hide and show specific sets of brushes by searching for the tag that you used to describe the brush.  Let's say that you use a lot of texture brushes with Gimp, but you also like to edit portraits using Gimp too.  These two uses of gimp demand entirely different sets of brushes, and if you have a lot of brushes it can be very cumbersome to sift through everything all the time.  If you take a moment to go through your brushes, and add tags, it makes life a lot easier.  Now if only they would make it possible to tag brushes in bulk.   EDIT: You can tag brushes in bulk.  to do this, simply create a subfolder for each tag in the gimp-2.8/brushes folder on your computer.

4.) Cage Transform Tool
The cage transform tool is a unique tool that allows you to transform an object based on a polygonal selection that you make prior to the transformation.  In a lot of cases, the cage transform tool has replaced the Iwarp tool for me, since it has proven to be a more robust way to transform an object as a whole.  For example, in the image below you'll notice the shape of the cabin looks very different than the shape of the cabin in the final image.
Image Made in Gimp (tutorial coming soon!)
In case you can't tell, the small cabin inside the biodome is the same cabin.  In Gimp 2.6, I probably would have used the perspective tool and the Iwarp tool to create the shape that I want.  This would have been time consuming, tedious, and I probably wouldn't have gotten a result that I was really happy with.  Thanks to the cage transform tool, I was able to create this shape with ease.  Here is a video on how the cage transform tool works:
5.) Brush System Improvements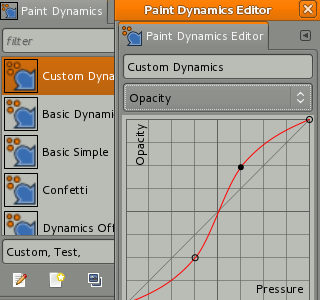 The brush system saw many improvements, but one of the most notable changes is how the brush dynamics work on a curve now.  With this new tool you get a huge amount of customization that was not there before.  To get started, click windows>>.dockable dialogs>>>paint dynamics.  From there, click on the piece of paper in the bottom left of the dialog.  This will create a new dynamic.  Once you do that, right-click on the dynamic that you just created and click "edit dynamics."  This will open the dynamic editor.  Try tinkering around with this a bit, and you'll be blown away by the power that it offers.
4 Responses to 5 Cool New Gimp 2.8 Features That You May Have Missed